Not a whole lot going on around these parts these days, except for:
Amazon sent me an e-mail with some purchase suggestions. Apparently they think I really need these. Like, really!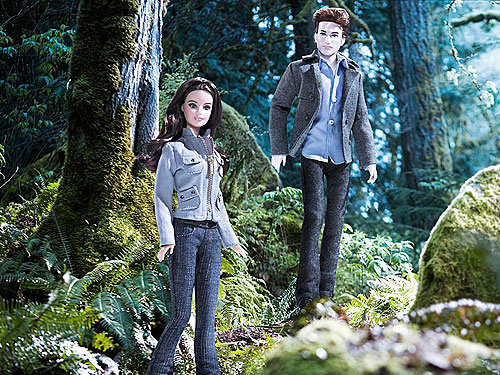 Yes, you too could be the proud owner of a Twilight Bella Swan Barbie Doll (who really looks much more pleasant and less annoying than the girl who played her in the movie) and a scary pasty white Edward Cullen Ken Doll. Because seriously, who doesn't want these gems in their doll collection?
Hmm
... I'm wondering how I can tell them that although I loved the books and watched the movie (okay, so I watched it four times), that I'm a bit older than their target demographic and that that's pretty much where my obsession ends. Seriously....
**********

On a totally different note I cannot wait to go see this:
Oh yeah baby, November 20
th
cannot come soon enough!
**********
Guess where I'm going on Saturday? I'll give you a little hint:
Okay, so maybe that was a big hint. Yep, I'm officially reuniting with my
ol
' pal yet again... enough said!
**********
Since I so loved both Angels and Demons and The
Da
Vinci
Code, I could not wait to get my hands on this:
I'm currently reading it, but unfortunately not loving it. I'm actually looking forward to being done with it and moving on to a different book. Hopefully a much better book.
**********
I'm fervently working on my
scrapbooking
layout classes and on some crafts I'll be selling at two upcoming craft shows. I'll make sure to share some pictures soon.
*********

My cell phone is acting up All. The. Time! It drops calls constantly, on a daily basis and it is driving me insane. I took it into AT&T and they think it's the battery. I'm up for an upgrade in December so I don't really want to spend the $50 it costs to get a new battery now. So if by any chance you call me on my cell phone and we get disconnected right in the middle of our conversation, please do not take it personally. Really it's not you, or me... it's my crappy Blackberry.
Well, that's about it for now. I promise to work much harder on my next post. Until then!